The Following Pictures Were Recently Provided By a Caring, Local Resident Who Became Alarmed Upon Learning What's Going On Up Here.  The first ones are of THREE ILLEGAL (per Chelan County Code AND MULTIPLE BYLAWS IN THE JOE CREEK RETREAT CC&Rs FILED WITH THE COUNTY AND AVAILABLE FOR DOWNLOAD HERE)  Abandoned Junk Structures with Tons of Toxic Trash Which Are Now Leaching Into and Contaminating the Once Pristine Water Table of the South Fork of Joe Creek!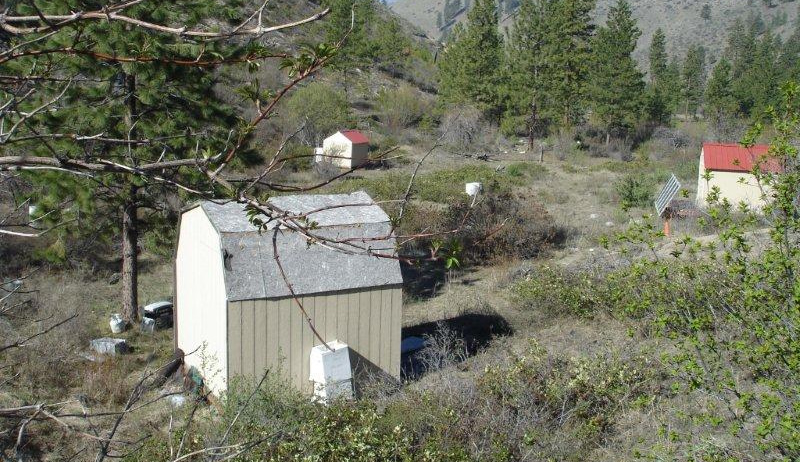 . . . Oops, forgot the music, click play for your pleasure!
Isn't This What Every Land Owner Wants from the Protective Covenants of Their Home Owners Association and Corrupt County Officials?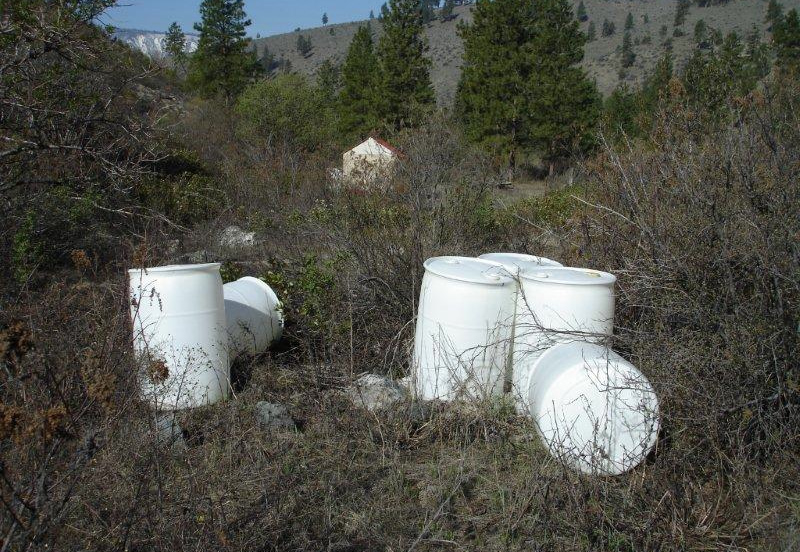 This is the careless, irresponsible and wrongful doings of Melissa Messershmidt, a screwed up piece of white trash who Peggy and I mistakenly thought we could help and enjoy as neighbors.  We got her into one of the best parcels up here at about 1/3rd the cost, did her dirtwork at half price and attempted to assist her in developing her parcel to the best value and use possible.  Instead, she brought her dimwitted boyfriend up who didn't know squat about land, zoning, setbacks, environmental objectives, building codes, septic fields, wells and the list goes on for a LONG time because the idiot she chose to listen to, instead of us, truly didn't know ANYTHING about building!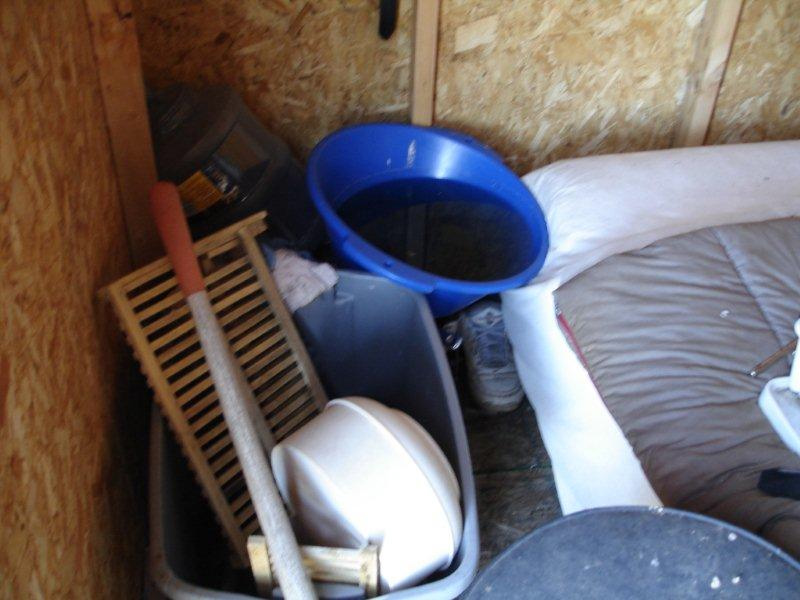 Peggy and I (Myself as the Project Engineer and Architectural Control Board) Both Advised Against the Erection of this Building for Use as a Dwelling but Yet Now This Ugly and Illegal Piece of Crap Sits Right Next to the Road For Everyone to "Enjoy"!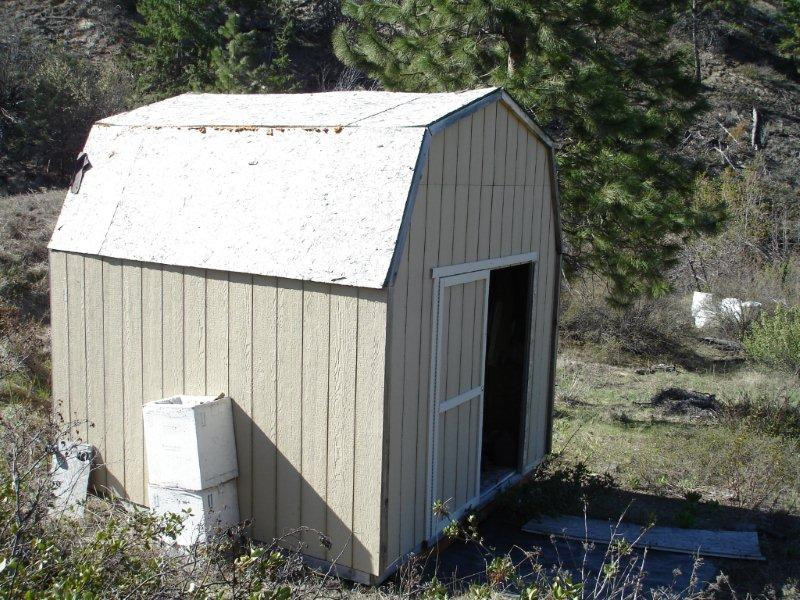 Have a Look Inside and Ask Yourself; Is This "Bedroom" Legal in Your County?  We Know It's Not in Ours and is Most Definitely Not Acceptable According to the Bylaws in the Joe Creek Retreat CC&Rs!  But Our Lovely Liers Lisa Wills and Cheryl Kocher of the HOA Refuse to Uphold Them Even Though That's Their Job!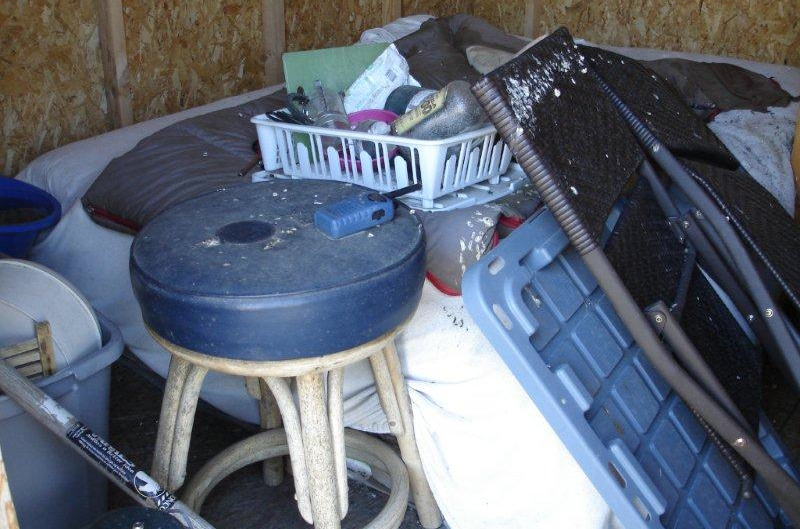 FYI; David Messershmidt threatened my life for telling his sick, gimping, drugged out (to the point she couldn't speak or walk during 2 of her visits!) daughter Mellisa that this wasn't acceptable at JCR!  This idiot and her then "big, fat black bo" Christopher Bryant (who was quite literally the dumbest and most chickenshit person both Peggy and I had ever met, these were not good representatives for either African or Caucasian Americans!)  They decided to make a mockery out of the entire development by irresponsibly putting up these three offensive and illegal buildings directly upon the watershed area of Joe Creek!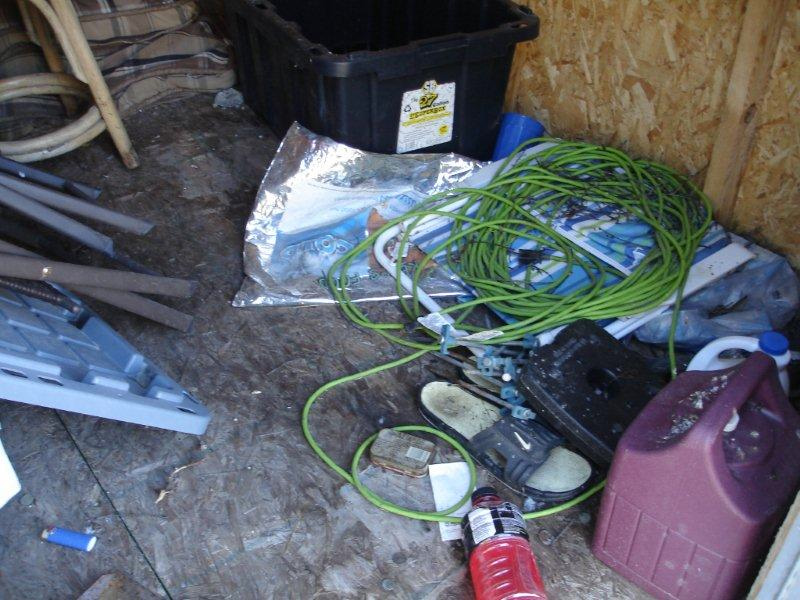 Hey, Let's Check Out The "Guest House";
It Needs a New Door Too But the Bed and Sleeping Bag Are Nice and Cozy!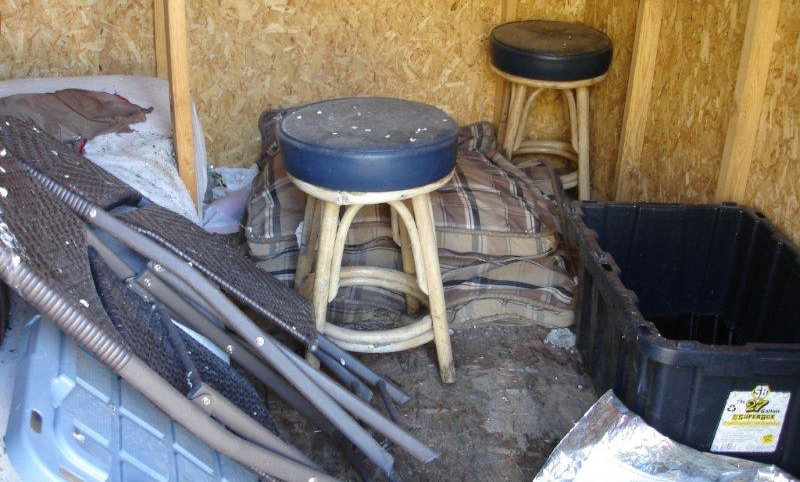 Next We Have the Un-permitted Utility Room Complete With About 800lbs of Dangerous Lead Acid Batteries Just Decaying and Gassing Away on Top of Joe Creek!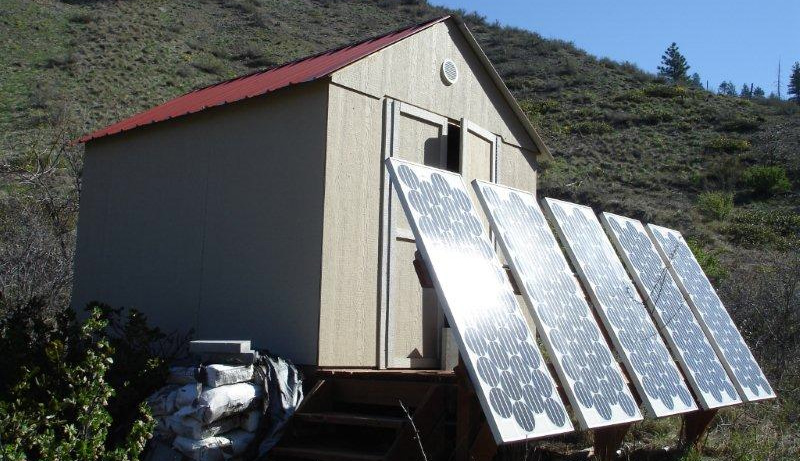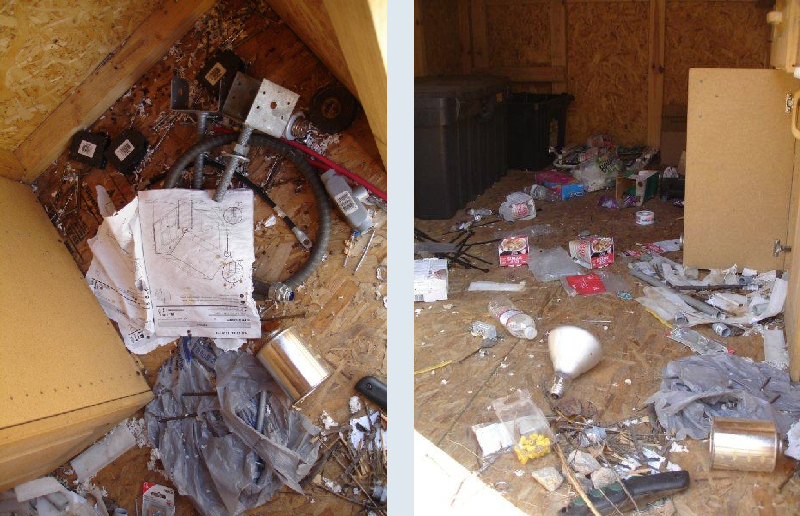 Nice Huh?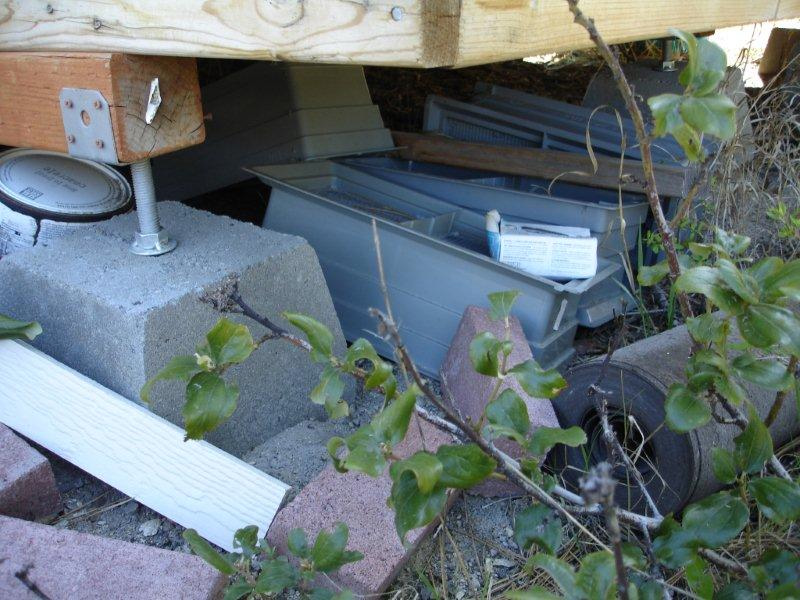 To add to the Madness Being Allowed by the dumbshits who wrongfully took over the HOA, we have a totally un-permitted building (No construction, electrical, plumbing or septic permits!) built by Dawn McCallum of Cashmere, WA who owes me $666, mostly for maintaining the roads (grading, snow removal and misc repair) which she and her visitors have enjoyed using at my sole cost for the last 4 years.  This building is obviously illegal and unsafe and has remained in this uncompleted and obnoxious state for over 5 years.  And Yet Still, I never called to report her to the County.
Below we see a clean out for an unapproved (and therefore illegal) septic system;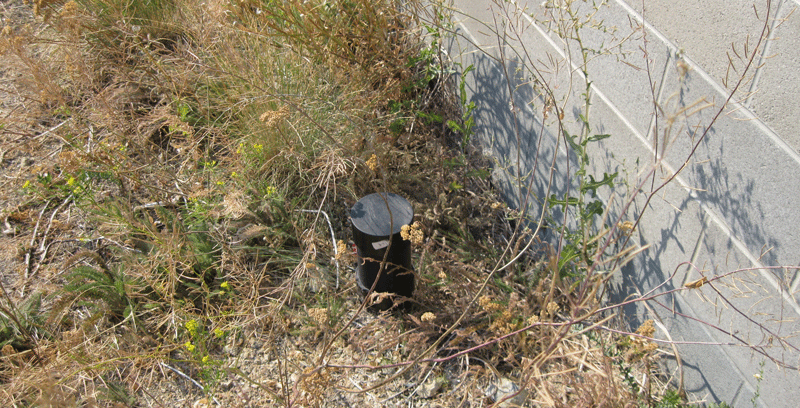 The Big Problems are that the drain field below the building is only 100′ away from the South Fork of Joe Creek (way too close by code!) and it's built on bedrock which won't allow all of the excrement and waste to sink down and be filtered by the ground.
So, instead of doing what it should, all of the toxic waste she produces will stay on top of the rock and drain straight into the south fork of Joe Creek! Over a dozen families with children and pets rely upon this aquifer for their drinking water!!!  And that is one excellent reason you need to hire a professional engineer and get a permit for septic systems!
And look what happened in the spring of 2016, the careless and irresponsible idiots Carla Flemming, Scott Flemming and Brian Johnson of parcels G & H didn't bother to maintain or clean out their culverts in the fall like I always have so, the Creek completely flooded out!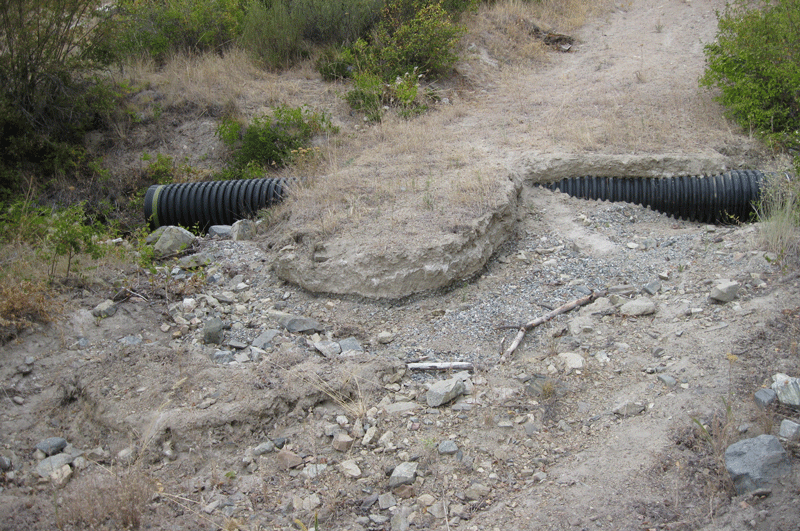 This resulted in the removal of at least 40 tons of dirt that washed down and muddied the entire creek system for weeks.  This water is what endangered Bull Trout depend upon being clean enough to breath, breed and survive in!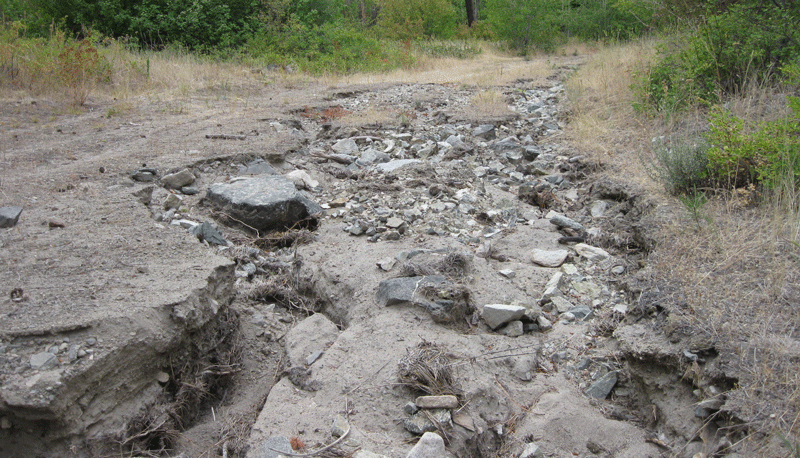 And check out this 2,000 lb pile of plastic that's been sitting and weathering for going on SIX YEARS now;

If you stop to think about how plastic deteriorates you'll know it loses weight as it becomes brittle and loses color.  That weight and color is full of toxins which in this case, are obviously leaching into the north fork of Joe Creek watershed which dozens of families and countless forms of wildlife rely upon for their survival!  THIS IS NOT ACCEPTABLE FOR ME, HOW ABOUT YOU?!?!?!?

And all of it is because the lying, welshing, low life piece of shite Brian Johnson who works for the PUD in Olympia didn't follow through on our agreement that he'd put electricity in if I gave him that parcel for just $35k, which is not even a third what is was worth!  All he did was bring that pile of plastic up and then NOTHING. (BTW; he told me he got it from work.  Me thinks that means he stole it and it goes along perfectly with the $50 dollar PUD padlocks he used on the gates!).
He didn't even make the down payment to the PUD to get the process started which is STEP ONE, this proved what his true intentions were.  And to top it off, his low life bullshit resulted in Peggy and I losing at least $100k to $300k in profits we would have had for power being to the other parcels.  Aren't some people just great!?
Well, all I can say is karma's coming, she's got steel toed boots on and this is only the start.  It's apparently a practice session in doling out a little justice in the form of THE TRUTH for which the responsibility has been given to me by God Him/Herself! (You'll think I'm kidding until you've read up a bit starting with ITSASIGN.COM!) 
OK, Now It's Time To See What We've Done With That Six Hundred, Sixty, Six Thousand Dollars!!!  Here Ya Go;